To print or download, click below.  When finished, click on the back arrow on the top left of your screen to return to the Church of God site.


December 2021
Immanuel: "God with us"
Some people confuse the meaning of God with us as, "God is on my political party's side," or "on the side of this country's war," etc.
While God is involved in the rise and fall of kingdoms, it is always to carry out His purpose, not ours. For instance, when Judah fell to Babylon, it wasn't due to the righteousness of the Babyonians, but rather the unrighteousness of the kingdom of Judah.
God with us is about Jesus (who is God) descending to our level in our form to rescue us from the clutches of our sin. He came in order to draw us to Him, not the other way around. This has been His purpose since the first sin separated man from God.
While the events of the world matter greatly, it is our relationship with God which matters most.
"All this took place to fulfill what the Lord had spoken to the prophet: "Behold, the virgin shall conceive and bear a son, and they shall call His name Immanuel" (which means God with us)."
Matthew 1:22-23 ESV
Credit: Elihu's Corner Blog
---
---
Church Mouse
Merry Christmas to my Church Family & Neighborhood Friends,
All of the Operation Christmas Child Boxes have been shipped.  Remember to pray for those who will be receiving them.  Special thanks to Stacey Hay and her crew for all the work they put into this project.  Another special thanks to Emma & Kay Engleka (& Ed too) for all the work they did raising money for postage for the shoe boxes!  Great job!
I'm sad that Sharron King has moved…I'm going to miss the delicious crumbs from her pie crusts.  I do believe that Jesse Moore & Shirley Henry will be missing her pies!  Congrats on your new home – Sharron.
So Pickleball is up and running at the Fellowship Center. I've heard it's lots of fun. I hear that it's good for all ages.  You might want to try it!
It's hunting season…Congratulations to Mark Lucas on a huge, beautiful buck he bagged while hunting out west!  Josh Rosman got a buck with a BIG RACK.  (Josh would love to show you a picture!)  I heard that Isaac Moore got a nice doe on the first day, early morning!
I was able to attend the November Retiree Luncheon.  The morsels I gathered were wonderful.  I heard Jesse Moore telling Cheryl Pletcher that one of the Suggestion Cards indicated that "more butter should be used in the cooking!"  Seemed to take Jesse's breath away!
It seems like shortly after any function, using the Fellowship Center Kitchen, some woman comes in and cleans that kitchen spick and span!  Not a crumb left for me – she does a wonderful job!
I rode to the New Centerville Jubilee with Pastor Vince's Family.  I was so proud of Emma Engleka being crowned Jubilee Queen, and then, her Dad, Ed Engleka being named King!  This has to be a first – Daughter & Dad!  Congratulations!
I hear that Keith & Georgiann Knepper hit the Grandchild Jackpot with each of their daughters expecting babies next year.
I was in the Joy Bible Class when Sue Stahl shared that she and Allan will have another grandbaby next year!  Stahl's were Smiling!
Special thanks to those who helped with the Fellowship Center Nativity.  Tim Latuch, Jon Pletcher, Jesse, Amy, Owen & Isaac Moore, Sue Stahl & Cheryl Pletcher.  Some new items were added and the lighting was improved.  It is beautiful and we hope it will bring joy to all those who pass by on Route 281.
Thanks to those who decorated the church for Fall & Christmas!  Beautiful job – warms my Little Mouse Heart!
Merry Christmas….Your Friend….The Church Mouse
---
---
Global Reach Missions Updates and Prayers
India:
Charusheela's last scan has shown that her cancer has shrunk!        Praise God for His healing touch. This is a very fast spreading cancer, so please keep her in prayer for complete healing. Some schools have begun to open. Pray for more to follow!
Bangladesh:
Dr. John ended up with COVID but is doing well now. Our Hostile for Boys and Girls has re-opened, but not all kids are back to school yet. Pray for Dr. John's stamina and health. Pray against the spiritual attacks he faces regularly for his great faith in Jesus.
Hawaii:
Keep Kenda Kapaku in prayer. Her father passed and she flew stateside to be with her family.
Venezuela:
Pastor Oscar Mendoza has been struggling with his Diabetes. There are times insulin isn't available and times when it is too expensive for him to purchase. The church has been a huge blessing by helping him. Please keep him in your prayers for continued provision.
Haiti:
Situation in Haiti is still dire. Pray for the country and all our brothers and sisters in Christ. Praise that Mike and Dawn made it safely back to the states!
Brazil:
People getting back to their routines as things open. The long closures have caused many financial needs and inflation has skyrocketed. Spirits need lifted and people need to get back to church. Churches have stepped up with helping with clothing and food. Pray for our Pastors in Brazil to be able to minister to the needs of their communities!
---
---

December & January Birthdays
Dec. Birthdays
Dec 1        Terry Ream
Dec 2        Marchelle Peck
Dec 6        Kendyll Younkin
Dec 9        Rose Tressler
Dec 12      Nina Phillippi, Charlotte Carrabotta
Dec 13      Ernest Pletcher
Dec 14      Alessaundra Vough
Dec 18      Jesse Moore
Dec 19      Ed Engleka, Elika Pletcher
Dec 17      Levi Ream
Dec 21      Sheryl Meyers, Adalyn Strelko
Dec 25      JESUS
Dec 26      Tom Brougher
Dec 28      Savannah Clawson
Dec 30      Pastor Jim Monticue
Dec 31      Don Houck, Louise Dumbauld
Jan 3        Dylan Shipley, Stephanie Stahl DePalmer
Jan 5        Loretta Mitchell, Lucas Shipley, Debby Tannehill
Jan 6        Jeff Peck
Jan 8        Stephen Walker
Jan 10      Peggie Ream
Jan 11      Lauren Mitchell, Colleen Younkin
Jan 12      Karina Putman
Jan 14      Debra Colflesh
Jan 15      Lindsay Latuch
Jan 16      Emma Engleka
Jan 18      Diane Engleka
Jan 19      Kay Engleka
Jan 20      Jessica Walker
Jan 21      Kaitlyn Latuch
Jan 26      Andrew Weaver
Jan 27      Larry Vough
Jan 30      Logan Walker
Jan 31      Melissa Barry
December & January Anniversaries
Dec. Anniversaries
Dec 3        Hilton & Loretta Mitchell
Dec 21      Paul & Juanita Hall
Jan. Anniversaries
None
**Thanks to Bobbi King for a Contact contribution.
---
---
Prayer Needs
God's People Undergoing Persecution
Christians in Afghanistan
Americans left in Afghanistan
Pro-American Afghanis
People dealing with COVID
Kidnapped Missionaries in Haiti
Emily Brougher
Doug Miller
Fern Enos
Patrick College
Joe Stevanus
Virgil Weaver
Kim Sutton
Katie Snyder
Audrey Irwin
Kevin Meyers
June Rugg
Sally Locklin
Mark Blasko
Jaci Hay
Jim Kitzmiller
Brenda Hardwig
Ben King
Sara King
Marchelle Peck
Dara Yoder
Scott Mimnaugh
Darla Tressler Wevodau
Randy Yachere
Charlie & Coral Lee Kreger
Helen Lucas
Ralph Younkin
Terry Lawson
Bill Gross
Shirley S. Brougher
Sis Wright
Kevin Houghton
Dan Harrold
Don Carrabotta
Ollie Schultz
Emily Hicks Mauri
Orville & Darlene Sanner
John Stoner
John Kreger Sr.
John Bishop
Jamie Tressler
David Lepley
Barb Rush
Homer Johnson
Alex Singo
Jon Ogline
Helen Ohler
Dave & Farmie Lemmon
Harold & Donna Kreger
Pat Weaver
Pastor Jack Feick
Lois Darr
Paul & Juanita Hall
Faye Knepper
Althea Lyons
Cary Phillippi
Howard & Etta Nicklow
Von Nicklow
Stacey Ream
Roger Shipley
Brynn Cashell
Allison Schmuck
Nancy Sleasman
Alan & Marijka Tubbs
Sam Vaughn
Aldara Weimer
Sue Frazee
Lacey Winters
Karey Vough's Uncle Tim
Marla Zeiset
Winebrenner Seminary
Leonard Compton Family
Jim & Marjorie Weaver Family
Nancy Klink Family
Tome Leydig Family
Brent & Julie Sleasman
Chatelas Church
Our Missionaries
Military / Police / First Responders
CEF
Schools, Teachers & Students
College Students
Unspoken Needs
---
---
ramblings & recipes

Thanksgiving 2021 is now in the history books!  I hope you and your family were able to join together, enjoy some good food and make some new memories!  It's so good to spend time with your family and friends.  We went around the table and each person shared something they were thankful for….it warmed my heart!
So now it's time to plan for Christmas!  Decorating, cards, baking…all the things that tradition has in store for us.  The older I get the more I enjoy the beautiful decorations and the wonderful music of Christmas.  Allow God to speak to you through the Christmas music.
This month I'm sharing two appetizers.  The first is a new recipe I just received from a friend.  She made it for us and it is delicious!  Caution – the cost of a pound of bacon is unbelievable….AND…you may want to make a double recipe of this if you will be sharing it with men!
Bacon Cheese Dip
1 lb. Bacon – fried crispy 1 Cup Sour Cream
2 Cups Shredded Sharp Cheddar Cheese ½ Cup Maple Syrup
½ Tsp. Cayenne Pepper
Fry the bacon and set aside. In a small crock pot or a saucepan, heat the sour cream (low temp) – then add the cheese and allow it to melt.  Add the Maple Syrup and the Cayenne Pepper and mix well.  Fold in the bacon.  Keep warm in a crock pot for serving.
Serve this with your favorite snack crackers.
Crab Dip
1 8 oz. block Cream Cheese 1 Small Can Crab Meat
Cocktail Sauce
Place the cream cheese on a serving plate.  Spread the crab meat over the cream cheese and top with cocktail sauce.  (You can use about ½ bottle of Cocktail Sauce or make your own – you'll need about 1 cup – using ketchup and horseradish).
Serve at room temperature with your favorite snack crackers.
***You can make this the day before and keep it in the fridge.  Don't put the cocktail sauce on until you are ready to serve it.
---
---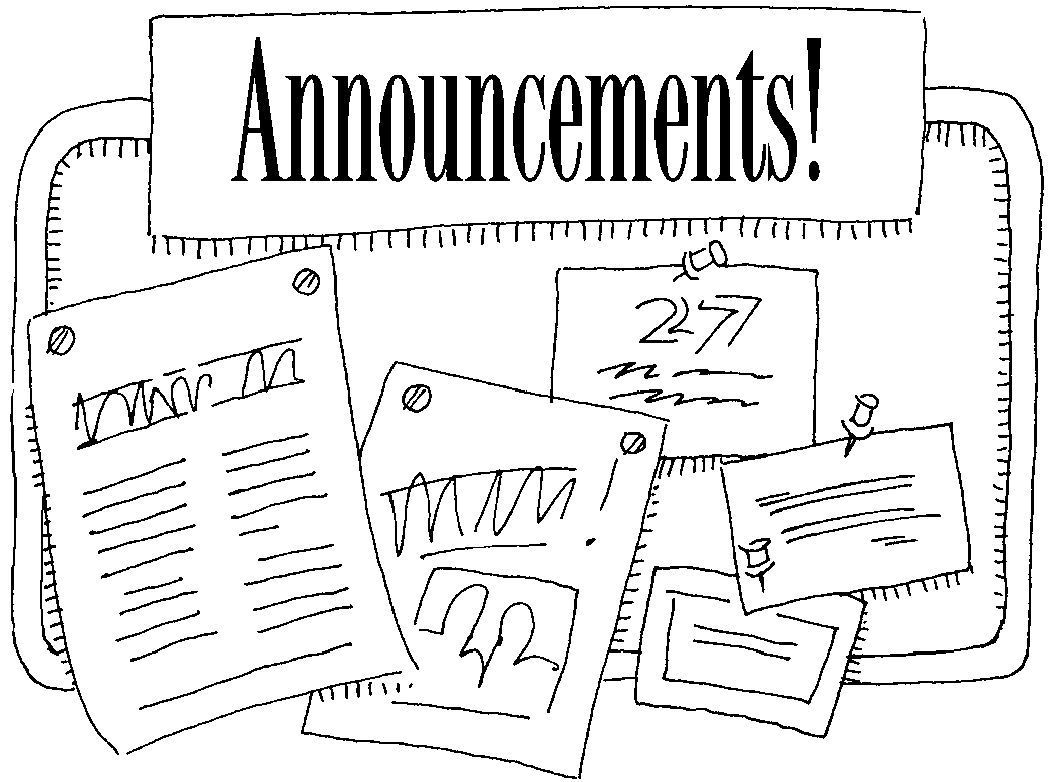 The Children's Christmas Program will have practice after late service on Dec 5th, 12th, and 19th. There will be a lunch provided on the 12th. All others will begin directly after church. The program itself will be held on Dec 19th at 6:00 p.m.
Please join us on Sunday evening, Dec 19th at 6:00 p.m. for the Children's Christmas Program. The children will be presenting A Charlie Brown's Christmas. You won't want to miss it!
We have a wonderful opportunity again to minister to children in our area through an After-School Good News Club at Rockwood Elementary!  This outreach is conducted in partnership with Child Evangelism Fellowship of Fayette-Somerset Counties.  Our Church will provide a team of individuals, the financial & prayer support and follow-up for the children.  This is a great opportunity to share the Gospel with boys and girls in our neighboring community.
The Club is held January – April, right after school, on regular dismissal days.  The club meets on Thursdays from 3:00 p.m. – 4:30 pm.  Volunteer time commitment would be from 2:30 p.m.—4:45 p.m.  You can be a part of reaching children in our area with the Gospel!  Volunteers, prayer support and snack offering are needed.  A donation can for snacks is in the vestibule.  An estimate of $200 needs to be raised.
The following are ways you can be involved:
Prayer partner
Grade helper
Donate Snack Offering
Song leader
*Please sign the Good News Club sheet on the table in the vestibule if you are willing to help in any way.  Clearances are required to help with Club.  If you have questions, please contact Hillary Whaley (814-352-3081) or Connie Pletcher (814-926-2034).
December 24, 2021 – Candlelight Christmas Eve Services at 4:00 p.m. & 7:30 p.m.
Helping Hands Ministry asks that you send a card to the folks on our prayer needs list. There are copies of it on the table in front of the Missionary/Helping Hands Bulletin Board. Mail some Christmas Sunshine! Thank you so much for all your support during the year. Keep up the kindness!
---
---
---
---
Kingwood Church of God
119 Humbert Rd
Markleton, PA  15551
  Church Staff
James Monticue, Senior Pastor
Vince Show, Director of Children's Ministries
Carey Beth King, Secretary
Church Website:    www.kingwoodchurch.cggc.org
Church Phone Number:  (814) 926-4429
Sunday Morning Worship
8:15 a.m. First Worship Service
9:30 a.m. Sunday School
10:30 a.m. Second Worship Service
7:00 p.m. Evening Worship Service