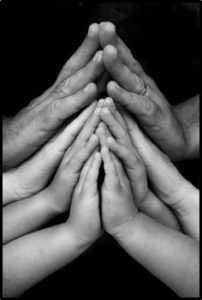 Our main goal is to serve God by our service to others. We have always sought to bring help and comfort to those within our community who are in need. We do this in several ways. We use our card ministry and our prayer shawl/newborn blanket ministry to care for and encourage those who are elderly, shut-in, those dealing with short term or long term illness, and those grieving the loss of a loved one. We also support established groups in our community like the Women's Help Center, the Children's Aid Home, and Rockwood School through their Kids Come First program. Matthew 25:35 says this, "I was hungry and you gave me food. I was thirsty and you gave me something to drink." We can offer help and give hope and establish value and worth to those who have the least among Gods people.  Through our works, we can fellowship with one another and give glory to God by the giving of our hands and our hearts.
Monthly Prayer Needs
Send some "sunshine" in a card to these folks to encourage and let them know they are valued and in your prayers.
Lois Baker
1056 Humbert Road
Markleton, PA 15551
Nelda Fox
343 Flannery Road
Somerset, PA 15501