To print or download, click below.  When finished, click on the back arrow on the top left of your screen to return to the Church of God site.


November 2022
Welcome Pastor Will and Beth
 Hello everyone at Kingwood.  Many of you I have met but there are many
of you who follow on Facebook that I haven't met, yet.  My name is Pastor Will Miller, and my wife is Beth.
I am the new Senior Pastor at Kingwood Church of God who has been hired after Pastor Jim Monticue's retirement.  My wife and I have moved here from Ohio, back to our home state of PA.  I am originally from the Shippensburg area and Beth hails from Lancaster.
We lived in Harrisburg in the early years of our marriage and when I received a call to ministry, we moved to Findlay Ohio for me to attend Winebrenner Seminary.  Our plan was to go to seminary for three years and then return to PA.  That was in 1991.  I often say if you want God to laugh, tell him your plans.
Anyway, during seminary I applied for and was accepted for the position of Director of Christian Ministry (campus pastor) to the University of Findlay. I served in that position on staff at College First Church of God for 23 years.  I also served in other positions at College First and our total time there was 29 years.
Beth and I have three grown sons; Denny, Shawn, and Brian and one "unofficially adopted" daughter; Kristina.  Our oldest son and his wife have two daughters.  Our middle son and his wife have two sons. And our youngest son is not married.  Our "adopted" daughter has four daughters.
Beth and I are glad to be back in PA and a little closer to family.  We are looking forward to a fruitful ministry here at Kingwood.  We would love to hear from any of you who are following online only. We also look forward to meeting with any of you who are available in the area to come and see us at church.
Yours in Christ's Service,
Pastor Will Miller
---
---
Church Mouse
October, was a busy month around the church.
I heard PW tell someone how much he appreciated the help he had this month getting to know some of our church shut ins.  He was introduced to Ralph Younkin, Charlie & Coral Lee Kreger, Art & Shirley Brougher, Jack & Jean Romesburg, Dave & Farmie Lemmon, Sarah Singo, and Gene & Gerry Cameron. Two persons in particular were instrumental in making said introductions. PW is very grateful to Junior Younkin and Emily Brougher for taking him and Beth to see these people and to make first introductions go smoothly.
PW is also finding out how to get around Somerset Hospital.  Unfortunately, he is getting acquainted with the layout there because of people needing medical care.  All of you who have been in and out of the hospital, PW thanks you for making him become familiar with the layout but prays for you all to remain healthy and stay out of that place. (I think you all know who you are).
A good time was had when PW & Beth went over to the Springs Folk Festival with PJ & Melanie.  They showed PW & Beth them the ropes and what all to try at the festival. I even got to sample some maple candy when PW dropped a few crumbs when he was eating it in the garage one afternoon. I passed on the sauerkraut they brought home (yuck).
There was a tram trail hike in the Laurel Hills State Park on Sunday afternoon, October 9. I think there might even be pictures of the group.  I wanted to hitch a ride because I heard that Brad and Renee Moore put on a pretty great picnic. Unfortunately, I missed my ride.
There is a Buckwheat and Pancake Supper coming up at the Fellowship Center in a few days (Oct 29).  I really have to get a ride lined up for that or maybe I should start walking now so I can get there in time.
I heard that the Youth had a spooky house building contest on Sunday evening.  I understand the building materials were all edible. Man, I'm bummed I missed out on that.  PW judged the contest and picked the best house.  I hear they were all very …… creative.  Some were a bit more so than others. Ask Karey Vough if you want to see pictures.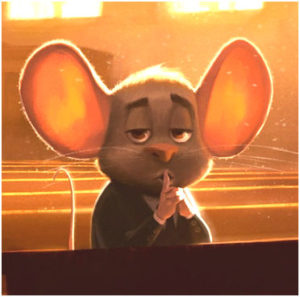 Well, it is interesting getting used to these new folks in the parsonage.  They are settling in and from what I hear they are loving it here in the Laurel Highlands. I'll keep an eye on them and let you all know what is up around here in the coming months.
As always, yours,
The Church Mouse
---
---

November & December Birthdays
November Birthdays

Nov 7        Bradley Lemmon
Nov 9        Blake Pletcher
Nov 9        Melanie Monticue
Nov 10      Jaynn Todias Johnson
Nov 16      Beverly Pletcher
Nov 19      Jennifer Gross, Erma Hay, Viola Kerns
Nov 26      Naomi Shaffer
Nov 28      Logan Bowman
Nov 30      Heather Ream
December Birthdays
Dec 1        Terry Ream
Dec 2        Marchelle Peck
Dec 6        Kendyll Younkin
Dec 9        Rose Tressler
Dec 12      Nina Phillippi, Charlotte Carrabotta
Dec 13      Ernest Pletcher
Dec 14      Alessaundra Vough
Dec 18      Jesse Moore
Dec 19      Ed Engleka, Elika Pletcher
Dec 17      Levi Ream
Dec 21      Sheryl Meyers, Adalyn Strelko
Dec 25      JESUS
Dec 26      Tom Brougher
Dec 28      Savannah Clawson
Dec 30      Jim Monticue
Dec 31      Don Houck, Louise Dumbauld
November & December Anniversaries

November Anniversaries
Nov 7        Ed & Kay Engleka
Nov 27      Josh & Stacey Rosman
Nov 29      Tim & Rita Show
December Anniversaries
Dec 3        Hilton & Loretta Mitchell
Dec 21      Paul & Juanita Hall
**Thanks to Bobbi King and Naomi Shaffer for Contact contributions
---
---
Prayer Needs

National Revival Our Country
Allegheny Region Churches, Pastors and Leaders
Pastor Will & Beth
People of Ukraine
Those dealing with sickness
Violence in our Nation
The upcoming elections
Families who have lost loved ones
Richard Edwards
Clifford Tressler
Those dealing with mental, emotional, spiritual & financial issues
Those hospitalized & having procedures
Those dealing with long-term illnesses
Shut-Ins
Those in nursing homes and care facilities
Schools
Teachers and Students
College Students
Hospital Workers
Winebrenner Seminary
Brent & Julie Sleasman
Church Ministries
Camp Sonrise Mountain
Chatelas Church
Our Missionaries
Our Global Mission Fields
Military / Police / First Responders
CEF
Unspoken Needs
---
---
Time to Whip It …. Whip It Good!!
The Super Seniors and Friends are having a Bake Sale on Election Day, November 8th. This will be at the Upper Turkeyfoot Election Hall beside Colleen and Junior Younkin. This fundraiser is to benefit Operation Christmas Child shipping costs. We would appreciate lots of baked items from the entire church. There is a sign-up sheet in the vestibule to help us know what is being donated. Please place baked goods in church basement no later than November 7th at 6:00 p.m. If you have any questions, contact Larry or Melissa Vough.
Save The Date…
Sunday School Christmas Dinner at FC
Dec 10 at 6:00 p.m.
SECRET SISTER CHRISTMAS LUNCHEON
The annual Secret Sister Christmas Luncheon will be held on Sunday, November 13, 2022, at 1:00 p.m. in the church basement. Ladies, please sign up on the sheet in the vestibule by November 6th if you can attend. Do not forget to bring two (2) small bag gifts for our game. We welcome all ladies of the church to join us even if you do not have a secret sister
Please send any birthdays and anniversaries that you'd like to be included in the Contact list to Carey Beth by email, text or a note in my church mailbox.  Want to make sure everyone is included.  Thank you.
careybethking@zoominternet.net
(814) 233-0053
---
---
ramblings & recipes

It's near the end of October – only about thirty-one days until THANKSGIVING!  I hope you will be able to relax, enjoy a good Thanksgiving Dinner and spend time with your loved ones.  We have so much to be thankful for, Count Your Blessings!
Here are two newer recipes – both are very enjoyable – maybe you can use them as a "new" item for Thanksgiving.
Jalapeno Popper Pigs-In-A-Blanket
14 Ounce Bag Lil' Smokies 2 Cans Crescent Rolls/cut in strips
8 Jalapenos – remove seeds & stem and dice 4 ounces Cream Cheese
2 Cups Sharp Cheddar Cheese 4 Slices Bacon – fried crispy & crumbled
½ tsp. Garlic Seasoning ½ tsp. Dry Ranch Dressing
½ tsp. Black Pepper
Heat oven to 350 degrees.
Cut crescent rolls to create strips.
Beat the cream cheese until light & fluffy.  Add the shredded cheddar, crumbled bacon and the seasonings.  Stir to mix well.  Fold in the diced Jalapenos.  Place a spoon of this mixture on the Crescent Roll strip, top with a Lil' Smokie and wrap the dough strip.
Bake for about 20 minutes or until golden brown.
NOTES:  You could use Jalapenos from a jar – I hear that Tim & Lindsay Latuch canned some this year – if you use from a jar – drain them well.
You could also use an equivalent amount of bacon bits (ready to use) – some are very tasty and so easy to use.
---
No-Bake Pecan Coconut Praline Cookies
2½ Cups Sugar ½ Cup Evaporated Milk
½ Cup Corn Syrup ½ Cup Butter
1 tsp. Vanilla 2½ Cups Chopped Pecans
2½ Cups Grated Coconut
Mix sugar, evaporated milk, corn syrup and butter in a large saucepan.  Bring to a rolling boil and boil for 3 minutes – stirring constantly.  Remove from the heat and stir in the vanilla, pecans and coconut.  Drop, by spoonful, on wax paper.  Allow to cool before serving.
Both recipes are delicious!  Try them!  Enjoy with family and friends!
Happy Thanksgiving!
---
---
KINGWOOD CHURCH OF GOD COUNCIL MEETING

October 10th, 2022
DEVOTIONS:  "Wisdom Comes From God" was the theme of the reading shared by Gerald Dumbauld.
Kingwood Fellowship Center September 2022 Usage
OLD BUSINESS:
Church Security – The committee will be meeting soon to review the State Police's recommendations.
Mission Project – Once a work date has been selected, a sign-up sheet will be available for anyone interested in helping with the installation of a ramp at a home in Somerset.
Parsonage Kitchen – A motion was made and seconded to recommend remodeling of the parsonage's kitchen at a cost not to exceed $35,000.  The recommendation will be presented and voted on at November's Annual Congregational meeting.  Motion carried.
Copier – Prices of several copiers were shared at the meeting.  Jesse Moore and Carey Beth King will view the operation of selected machines and return with recommendations at November's meeting.
NEW BUSINESS:
Christmas Program – This year the event will be held at the Fellowship Center.
AED – A motion passed to purchase a new Automatic Defibrillator for the FC, not to exceed the cost of $2,500.
Operation Christmas Child – A donation-can will be placed in the vestibule to help cover the cost of shipping shoe boxes.
---
---
Kingwood Church of God
119 Humbert Rd
Markleton, PA  15551
 
Church Staff
Will Miller, Senior Pastor
Carey Beth King, Secretary
Church Website:    www.kingwoodchurch.cggc.org
Church Phone Number:  (814) 926-4429
Sunday Morning Worship
8:15 a.m. First Worship Service
9:30 a.m. Sunday School
10:30 a.m. Second Worship Service
7:00 p.m.  Midweek Services @ FC on Wednesday