To print or download, click below.  When finished, click on the back arrow on the top left of your screen to return to the Church of God site.
God's Valentine Gift
 God's Valentine gift of love to us
Was not a bunch of flowers;
It wasn't candy, or a book
To while away the hours.
 His gift was to become a man,
So He could freely give
His sacrificial love for us,
So you and I could live.
He gave us sweet salvation, and
Instruction, good and true-
To love our friends and enemies
And love our Savior, too.
So as we give our Valentines,
Let's thank our Lord and King;
The reason we have love to give
Is that He gave everything.
Joanna Fuchs
Happy 2020! And I mean that! We're off to a great start! The first of what is usually one of the two most miserable months of the year is behind us and the weather has been great! If this is climate change I'm all for it! Maybe our climate will change to be more like Florida's! – Please add that to the Prayer list PJ! (Just don't let Melanie pray about it – I hear Mother Nature doesn't appreciate her interference and retaliates with extreme weather conditions!)
Thanks to everyone who made the Christmas Season so special! Thanks to Eileen Buchanan and all the folks who helped her at the Festival of the Nativities. The live music was a great touch! Thanks also to all those who went Christmas Caroling. You certainly brightened people's days!
Speaking of day brighteners – the Christmas Program was wonderful as always. Thanks to Stacey Rosman and everyone else who worked so hard to make it happen & make it the quality production that it was, thanks to those who fed the kiddos at the practices – and thanks to all of you for sharing your children with us!
It was nice to see all the musicians of all ages sharing their talents at the Christmas Eve Candlelight Services. Thanks to all of you who helped in any way!
It was nice to see Pastor Tobias' memory honored and his program continued with "Singing around the Piano" the first Sunday Evening in Advent. What an enjoyable evening that was!
Jake Vough your new job seems to be a Christmas present in an of itself and it's a gift that keeps on giving. Let me see if I got this right: Your orientation was getting to drive new equipment, you get paid to troubleshoot existing equipment (something you love doing) and they give you a really nice SUV with all kinds of bells and whistles as your company vehicle. I guess the only step up would be a Tesla that drives itself! Why do I think the equipment on your farm may soon be changing colors?!
It's always nice when people from the church enjoy socializing and being together enjoying one another's company, either on or off the premises; but there's a group from the church (and they'll know who they are) that I have a question for: Ladies: What time does Dunkin' Donuts close?
Well I understand that maple production is underway. I'm looking forward to all the good things that come with it. I hope everyone has a successful season!
Well folks, this little mousie needs to get moving. Let's hope February is as nice as January has been. If it is I won't even mind it having an extra day! Don't forget Valentines Day is coming. – There PJ I did part of your job for you! You can pay me in chocolate!
Love, Blessings & Goodies to you all!
Your Friend,
The Church Mouse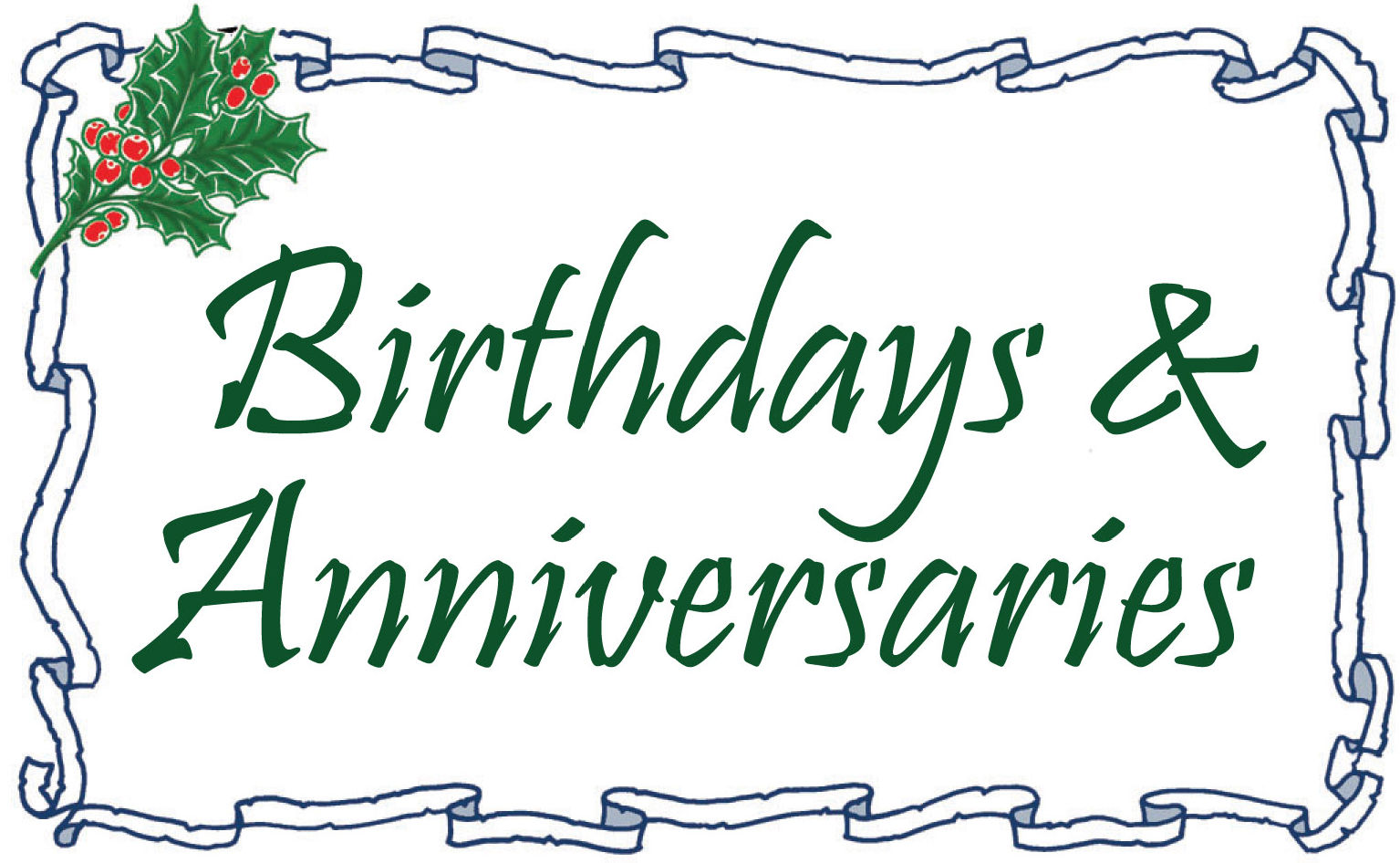 February & March Birthdays
Feb. 2       Brandon Younkin and  Bret "Charlie" Pletcher
Feb. 4       Chris Colflesh
Feb. 5       Hannah Latuch
Feb. 8       Tom Mills
Feb. 13     Rick Barry
Feb. 14     Vanessa Lucas
Feb. 15     Tucker Faidley
Feb. 16     Randy Pletcher and Grant Pletcher
Feb. 18     Paul Hall
Feb. 20 Mike Weaver
Feb. 24 Shanda Pletcher and Marjorie Weaver
Feb. 25 Geraldine Cameron and Scott Kreger
Feb. 27 Natalie King and Maxwell Kemp
Feb. 28 Braden Barry
Feb. 29 Brenda Yoder
Mar. 1 Shirley S. Brougher
Mar. 3 Brandon Pletcher
Mar 5 John Mitchell
Mar. 6 Andrea Minor
Mar. 7 Allie Colflesh
Mar. 9 Tom Clawson
Mar. 11 Natalie Latuch
Mar. 16 Richard Dumbauld
Mar. 17 Rita Show and Angie Weaver
Mar. 19 Melissa Putman
Mar. 23 Shirley Metheney
Mar. 31 Trista Younkin
February & March Anniversaries
Mar 2        Gregg & Barbara Lemmon
Mar 3        Bearl & Teresa Faidley
Mar 13      Randy & Bev Pletcher
Prayer Needs
Families who lost loved ones
Roger Miller
Bill Linderman
Von Nicklow
Roger Shipley
Ben Cramer
Gary Ogline
Dale Nicklow
Charlie Kreger
Bob Pritts
Tim Wolfe
Patty Younkin
Roger Tressler
Shirley Henry
Lois Darr
Jackie Hay
Toni Thumma
Pastor Greg MacDonald
Laura DeHaven
Pastor Doug Show
Tom Kovach
Naomi Schrock
Alex Singo
Ron Sleasman
Peggie Ream's Brother
Dean Brant
Brian Jasensky
Lacey Winters
Kristen Pritts
Andrew Pluta
Marchelle Peck
Jesse Engle
Alivia Ickes
Brad Pletcher
Mike Matezian
Ken Cipra
Church Camp
Winebrenner Seminary
Brent & Julie Sleasman
Child Evangelism Fellowship
Wildfires in Australia
Chatelas Church
Our Missionaries
Our Teachers & Students
Mission Efforts
Military
Police & First Responders
Moral Climate
Long Term Needs
Lois Baker
Paul Michell
Jim Brocht
Ieleen Harrold
Nelda Fox
Jim Peck
Jeremy Jones
Barb Rush
Ron & Audrey Irwin
Louise Kreger
General Pyle
Leonard & Faye Compton
Alex McClintock
Amy Tressler Gonzales
Vickie & Carl Bowser
Jim Saylor
Susan Webster
Eldon & Loretta Sechler
George Hoffman
Helen Ohler
Mary Nicklow
Dave & Farmie Lemmon
Harold & Donna Kreger
Pat & ButchWeaver
Heather Ream's Aunt
Dr. Jack Kineer
Althea Lyons
Paul & Juanita Hall
Royal & Faye Knepper
Jim & Marj Weaver
PA Laus
Marijka Tubbs
Chase Kemp
Brynn Cashell
Grayson Gumbert
Allison Schmuck
Colton Tinsmith
Easton Pritts
Luke Orange
What's happening at Kingwood????
There are many exciting things happening in this new year. The Youth are planning activities as well as Arctic Blast at Camp Sonrise Mountain on February 21-23. A group will be filling Gifts of Love boxes for our college students and military personnel.   I'm sure those boxes will be greatly appreciated! So nice to see different groups doing bible studies. What a wonderful way to fellowship. The Basketball and Volleyball games have begun on Friday evenings at the Fellowship Center. Basketball will be held on 2/14, 2/28, 3/13 & 3/27. Volleyball will be held on 2/7, 2/21, 3/16 & 3/20. These start at 7:00 p.m. The Sunday Lunches at the FC will be starting up again soon. Before we know it, Easter will be upon us. I can personally say, "Time does fly!" People have always told me that it goes faster the older you get. I believe it. Not admitting that I'm old, but I'm not getting any younger…
Laughter is the best medicine…
 The preacher came to call the other day. He said that at my age I should be thinking about the hereafter. I told him I do, all the time. No matter where I am, in the den, upstairs, in the kitchen or down in the basement, I ask myself, "Now what am I here after?"
The Sheriff pulled up next to a guy unloading garbage out of his pick-up truck into the ditch. The Sheriff asked, "Why are you dumping garbage in the ditch? Don't you see the sign?" "Yep" he replied. "That's why I'm dumpin' it here, cause it says; 'Fine for Dumping Garbage'."
Fact of life: People who snore always fall asleep first!
Courage is fear on its knees.
Church Staff
James Monticue, Senior Pastor
Vince Show, Director of Children's Ministries
Carey Beth King, Secretary
Church Website:    www.kingwoodchurch.cggc.org
Church Phone Number:  (814) 926-4429
Sunday Morning Worship
8:15 a.m. First Worship Service
9:30 a.m. Sunday School
10:30 a.m. Second Worship Service
7:00 p.m. Evening Worship Service