To print or download, click below.  When finished, click on the back arrow on the top left of your screen to return to the Church of God site.


March 2023
Super Senior Trips & Events for 2023
The Super Seniors had their "gopher" breakfast at Summit Diner on February 2nd. We could not have asked for a better turnout. We filled the back room with 36 people and The Diner fed us with friendly service, speedy and fantastic food. After everyone was fed, Larry Vough filled us all in on the upcoming events. We are going to be one busy group this year. And we again invite anyone from the church to join us. We do not age discriminate!!
Our first trip will be in April 20thto Winchester, Virginia. We will be chartering a 55 passenger bus to visit Marker/ Miller Orchard, to hopefully see the apple blossoms in full bloom. They will take us by hayride around the orchard and we will have apple cider donuts to snack on. From there we will be going to Shaffer's BBQ for a smorgasbord lunch. After lunch we will travel just down the road to Belle Grove Plantation for a tour, then to the Cedar Creek Battle Museum that is across the road from the plantation. There will be a sign-up sheet starting March 5th.
Our second event will be in July 14, at Gerald Dumbauld's barn. We will have a special speaker, Fred Will, who give a talk about barn stars and split barns. Gerald Dumbauld's barn was one of the barns in the area that was split We are also having a catered supper. We will put up a sign up sheet, so the caterer will know how many to plan for. More details will come later on this event.
Our third trip will be to Sight and Sound to see "Moses" on September 21, in Lancaster, Pa. We are going to the 11:00 showing. Again, we will charter a 55 passenger bus. We will stop at Shady Maple Smorgasbord for a late lunch after the performance. We will put out a sign-up sheet when the time gets closer.
Then, our last trip for the year will be to Wheeling, WV to Oglebay Resort to see "The Festival Of Lights". We will charter a bus again and to eat somewhere along the way or at Oglebay. We are planning to go on this trip the second week in December. The plans for this trip are yet to be finalized. We will keep you updated!!
We are also having a Strawberry Social on Saturday June 10th at the Fellowship Center. Of course, this is open to one and all!! This is always a good time, not to mention "Strawberries" Yummy!!
Mark your calendars so you can come and enjoy with our group. We always have lots of fun and fellowship.
---
---
Church Mouse
January and February were quite full of all kinds of different activities. I am trying to play catch up with this edition of the church mouse.
In no particular order here are some of the highlights that kept me running.
Pastor Will did his first memorial service here at Kingwood.  It was a lovely service for Orville "Tub" Kreger.
Heather Houghton did her presentation on her trip to Bangladesh.  It was interesting to see how they could encourage our missionaries in that country.
The Youth of the church had the opportunity to attend both Jr & Sr High arctic blasts  at camp Sonrise Mountain.  From the pictures I saw on my mouse book page (rodent version of Facebook) it looked like a fun time for all. Kerry Vough also reported on the how inspired she was by watching the kids get closer to Jesus.
I understand that the game feed is progressing well and is probably sold out at this point. Speaking of game feeds P Jim & P Will were both hosted by Terry Ream to the Somerset alliance venison dinner.
There is a rumor going around that both Mark Lucas and Dean Hay are both great deer dogs.  PW was the beneficiary of their skills this deer season. (Even if he did miss the deer Mark pushed to him.)
Teresa Faidley is recovering from her knee replacement just in time for maple sugaring. Many of you are in the process of preparing for the sweetness of that season. Some of us are just looking forward to the reward of others work.
I snuck over to the sanctuary the other night and sat in the back corner during the Ash Wednesday service.  It was a very moving and quite meaningful way to start the Lenten season.
I also made a trip down to the FC center the other Sunday afternoon for the SURPRISE party for Randy Pletcher. It was amazing that they were able to surprise him, but they did.  Apparently he had to be roused from an afternoon nap to be in attendance at his own party.  I don't think it would have been as mush fun if they had left him sleep through it.
We are in the Lenten Season, and I hear PW is doing a whole new sermon series that will last through the Sunday after Easter.  It is "Questions Jesus Asked".  I think this could get interesting.  As we work through Lent I hope you and yours will focus on the gift of Jesus and what he accomplished for us.
Until next month, As always, yours,
The Church Mouse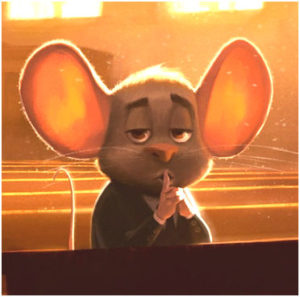 ---
---

March & April Birthdays
Mar. 1       Shirley S. Brougher
Mar. 3       Brandon Pletcher
Mar. 5       John Mitchell
Mar. 6       Andrea Minor
Mar. 7       Allie Colflesh
Mar. 9       Tom Clawson
Mar. 11      Natalie Latuch
Mar. 16      Richard Dumbauld
Mar. 17      Rita Show, Angie Weaver
Mar. 19      Melissa Putman
Mar. 23      Shirley Metheney, Mccoy Pletcher
Mar. 31      Trista Younkin
Apr. 3        Mathew Zerfoss
Apr. 4        Josh Knepper
Apr. 8        Nathan Show
Apr 9         Lolly Peirsel
Apr. 10      Stacey Stahl Robbin
Apr. 11      Harold Kreger Jr., Joshua Rosman
Apr. 18      Kelly Mills
Apr. 21      Kaycie Pletcher
Apr. 22      Christian Weaver
Apr 23       Auzalie  Minor
Apr. 24      Kenny Cipra
Apr. 25      Rosanna Tobias, Mark Lucas Sr.
Apr. 26      Abigail Rosman
Apr. 27      Todd Strelko
Apr. 29      Catherine Houghton
March & April Anniversaries
Mar. 2        Gregg & Barbara Lemmon
Mar. 3        Bearl & Teresa Faidley
Mar. 13      Randy & Bev Pletcher
Apr. 5        Chuck & Debra Colflesh
Apr. 6        Blake & Shanda Pletcher
Apr. 26      Richard & Melissa Barry
Apr 29       Anthony & Hillary Whaley
---
---
Prayer Needs
National Revival
Our Country
Allegheny Region Churches, Past and Leaders
Lenten and Easter Preparation
Pastor Will & Beth
People of Ukraine
Those dealing with sickness
Violence in our Nation
Families who have lost loved ones
Roger Hay
Sammy King
Alice Schrock
Those dealing with mental, emotional, spiritual & financial issues
Those hospitalized & having procedures
Those dealing with long-term illnesses
Shut-Ins
Those in nursing homes and care facilities
Schools
Teachers and Students
College Students
Hospital Workers
Preparations for Mission Trips
Winebrenner Seminary
Brent & Julie Sleasman
Church Ministries
Camp Sonrise Mountain
Chatelas Church
Our Missionaries
Our Global Mission Fields
Military / Police / First Responders
CEF
Unspoken Needs
Thanks to Bobbi King, Shirley Nicklow and Pat Weaver for your Contact contributions.
---
---
Global Reach Updates
Haiti
Please keep Haiti and her people in prayer as the gangs continue to grow and the violence against innocent people increases. Pray for our brothers and sisters in Christ, our churches and schools, and all of Project Help.
Venezuela
Evangelism and outreach into communities continues to be a priority in Venezuela. Two families in a new community have come to Christ. Pray for more families to come to a saving knowledge of Jesus and pray for a new church plant to minister to those new believers and those yet to come! The young adults of one of the churches hit the streets to share the love of God. Pray for the seeds planted and pray these young ones will keep growing in Christ and keep their passion for sharing the Gospel.
India
Keep the Mission in prayer as they search for a qualified individual to take over as headmaster of our mission school and child development center.
Kingwood Mission Trip to USA Southwest/Navajo
Please pray for the mission team as they fundraise for this trip. Please keep the team in prayer for the right heart to serve, for unity of purpose, and for the opportunity to bring blessing to Jake and Haley as well as the church and community.
Helping Hands
Helping Hands Prayer Needs for March
Lois Darr c/o Laurel View Village 2000 Cambridge Dr. Davidsville, PA 15928
Faye Knepper c/o Laurel View Village 2000 Cambridge Dr. Davidsville, PA 15928
---
---
ramblings & recipes

It's near the end of February and as I type this article – it's 60 degrees in Upper Turkeyfoot Township, Somerset County, PA.  There is no better place to live than here!
I guess it's been a good year for the Maple Producers….be sure to attend the Somerset County Maple Taste & Tour held this year on March 11th & 12th.  I'm sure they will know, by then, about what kind of season they have had!
Here's a recipe that takes a little extra work – but it is soooooo good!  A friend of mine shared this recipe with me, maybe forty years ago.   It's called Butterscotch Delight – you could use Caramel Ice Cream Topping in the recipe – if you prefer Caramel over Butterscotch.
Butterscotch Delight
¼ cup Butter 1 (16 oz.) Frozen Whipped Topping (Thawed)
1 (7 oz.) pkg. flaked coconut 1 Box Vanilla Wafers
1 Cup Chopped Pecans 1 (12 oz.) jar Butterscotch Ice Cream Topping
1 (8 oz.) Cream Cheese – room temp
1 (14 oz.) Can Sweetened Condensed Milk
Use a 9 x 13 pan.  Place vanilla wafers on the bottom and along the sides of the pan – this may take some patience!!  Set aside.
Melt the butter in a skillet – add the coconut and the nuts – cook until golden brown – set aside to cool.
Combine the cream cheese and milk – beat until smooth – using a mixer is best!
Fold in the whipped topping.
Put half of this mixture into the pan (over the wafers).  Sprinkle ½ of the coconut & nut mixture on top.  Drizzle ½ the jar of Butterscotch over top.  REPEAT – Creamy mixture, coconut & nuts & then the remainder of the Butterscotch.
Cover and freeze until firm.  You can freeze overnight or longer until you are ready to serve.  Remove at least five minutes (longer if frozen for a longer period of time) before you are ready to cut into servings.
Enjoy
---
---

The Wild Game Dinner is scheduled for March 18, 2023, at 6:00 p.m., at the Fellowship Center.  You must have a ticket (no cost) to attend.  Tickets are available from Nick Faidley, Jeff Peck and Brad Pletcher.  Each attendee (family) is encouraged to bring a covered dish sharing your favorite wild game.  There will be a program and door prizes!
There is a sign-up sheet in the vestibule for those who would like to bring Mounts to the Wild Game Dinner.  Please sign and indicate what mount you would like to display.
The Kingwood Mission Trip to the Churches of God Southwest/Navajo team is selling Delgrosso Spaghetti Dinner tickets!  This fundraiser will be held on Saturday, March 25th.  All tickets are $12.00 per person.  Take Out meals served from 11:00 a.m.-12:00 p.m. Eat In meals served from 12:30 p.m.-2:30 p.m.  All meals include, plate of spaghetti and meatballs, bread, salad, cake and a drink.  We also welcome any additional donations!!  Please help support our trip to be a blessing to our Navajo churches in New Mexico!  See Jill Luster, Heather Ream or Heather Houghton for tickets.
Kingwood Mission Trip Team needs some help on the day of our fundraiser, Saturday March 25th.  We also need cake donations. There are 2 sign up sheets on the table in the vestibule.  Thank you!
April 14-16:  Spring RefresHER Women's retreat at Camp Sonrise Mountain.  Cost is $125.  For more information, contact Carrie Dix at cdix@campsonrisemountain.org or 301-746-5760.
If anyone is interested in the old church copier/printer, please see/call Jesse Moore (814-777-7227).  The copier/printer is a Xerox Workcentre 5150 rated at 55 pages per minute and will copy/print up to an 11″ x 17″ page size.  The unit was in working condition when taken out of service.
WHAT DO APPLE BLOSSOMS, A PLANTATION, A BATTLEFIELD AND A BBQ HAVE IN COMMON?
The Super Seniors will be travelling to Winchester, Va. on Thurs. April 20 to enjoy them all!  We will begin with a tour of Marker-Miller Orchards to (hopefully!) enjoy the beauty and fragrance of the apple blossoms.  After a picnic-style lunch of barbecued chicken or pork sandwiches at Shaffer's BBQ, we will be touring the mansion at Belle Grove Plantation. Then we will be going across the road to the Cedar Creek Battlefield Museum. The Civil War Battle of Cedar Creek began in the fields surrounding the house at Belle Grove Plantation.  We will be traveling by chartered bus, so seating is limited to the first 55 people to sign up.  A sign-up sheet is in the hallway for those who are interested in going.  Total cost will be $75/person, payable by check to Georgiann Knepper.  Please make the check payable to Kingwood Church of God Super Seniors.  Payment will be due by March 19 in order to secure the bus.  This event is open to anyone who would like to come along —"advanced age" is not a requirement, just a love of nature and history—and barbecue!
---
---
KINGWOOD CHURCH OF GOD COUNCIL MEETING

February 13th, 2023
DEVOTIONS: "Enough of the Roaring" was the reading Shirley Brougher shared from Cross Power Ministries along with Revelations 17:14.
Kingwood Fellowship Center January 2023 Usage
OLD BUSINESS:
Church Security – The Security committee will get estimates to replace signs and re-label doors of both facilities.
Mission Project – A brief report of the Mission team's planned activities during their Southwest visit in June was shared.
Day Care Center – The committee and elders will meet with an individual who has shown interest in the position of day care coordinator to discuss expectations.
Parsonage Kitchen – This project is slated for the near future.
Copier – The copier arrived and is operational.  Shelving was added to the office to store paper.
NEW BUSINESS:
Council approved the addition of a handrail to be installed on the back porch of parsonage.
INFORMATIONAL ITEMS:
The new AED has arrived and is installed at the Fellowship Center.
A meeting was held, and a plan is in place for the Annual Conference Session to be held at the FC in May.
---
---
Kingwood Church of God
119 Humbert Rd
Markleton, PA  15551
Church Staff
Will Miller, Senior Pastor
Carey Beth King, Secretary
Church Website:    www.kingwoodchurch.cggc.org
Church Phone Number:  (814) 926-4429
Sunday Morning Worship
8:15 a.m. First Worship Service
9:30 a.m. Sunday School
10:30 a.m. Second Worship Service
7:00 p.m.  Midweek Services @ FC on Wednesday